World of Braidcraft
September 30, 2008
Podcast: Play in new window | Download
Braid is not a game. Mana Energy Potion–now with horrible side effects! YOGU-TIMEU! Ginseng drink: a Lovecraftian monster in a bottle. Refrigeration drinking enhances flavor. The Gallon Challenge! Pre-order fights. Listener emails… from Russia. Time flows differently in podcast land. Digg, approve our podcast already. BRAID SPOILERS–what does it mean? Grenade down the pants. World of Warcraft is one of the worst offenders.
Music: "Oh No, Babe" (2007) by SaReGaMa (http://www.jamendo.com/artist/saregama/)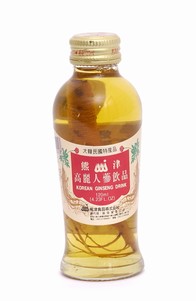 A Lovecraftian monster in a jar.
Write in!
We're going to start reading listener emails! (Well, assuming we actually have any listeners.) If you want to submit comments or questions, send them to podcast@chainsawbuffet.com
Subscribe!
The Chainsaw Buffet Podcast can now be found on iTunes.
Or, you can subscribe to future podcasts here:
http://feeds.feedburner.com/ChainsawBuffetPodcast