The Chef Is Not Feeling The Season
December 3, 2007
Well, that time of the year is upon us. The Thanksgiving turkey is well into its third round of recycling, the red and green have been hung, and the carols are in the air. But to tell the truth, the Chef just isn't feeling the merriment.
Why is that, you might ask? Is the Chef just another Grinch, out to make other people miserable? Is he a dastardly curmudgeon, never satisfied with anything? Or did he fall off of Santa's lap when he was a lad and crack his head open, scarring him for life and biasing him against all things Christmas-y forever? Will he be the villain in some insipid holiday special involving Rudolph and Frosty the Snowman?
The answers are, "No, possibly, no, and God I hope not because I would make reindeer paté and sno-cones."
What truly bugs me about this season, or at the very least this year in particular, is the hypocrisy of it all. Now, this isn't going to turn into yet another of those "help feed the homeless" appeals that are all over the airwaves and newspapers in November and December. You've probably already heard hundreds of those in your life, and chances are you haven't done a thing in response to them. The fact is, those appeals for help don't do as much as we wish they did, and people in need are in need all bloody year, not just the two months when us fortunate ones are overindulging and feeling guilty.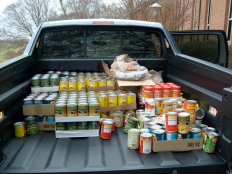 Yeah. That's a lot.
Case in point: throughout the month of November, the church I attend (which I'm mercifully not going to go into detail about) held a canned food drive for a local food pantry. The results for the entire month were a grand total of 400 items. Again, that's the entire month of November in which people donated that number of cans. For those of you who attended Tennessee public schools, I'm going to explain that this isn't a whole lot. In fact, considering the needs of any food pantry, 400 cans isn't even a drop in the bucket. Half of those cans were, in fact, donated by two very great people, my own parents. The rest were in dribs and drabs of two or three cans given by individuals (there were some exceptions, and I would like to thank those people who were the exceptions) who apparently don't realize how much an average family eats in a given week. The only way to make a dent in the problem is by the case, not the individual can.
Now, don't get me wrong; I'm not against the usual selfish indulgence (or "greed", as the judgmental people call it). Wanting things and enjoying things are what life's all about. Selfishness and having too much material crap around is a good-sized chunk of human existence, and there's nothing wrong with it. I don't mind people being selfish, awful humps, because I'm a selfish, awful hump myself. The human race is a bunch of self-centered apes with delusions of grandeur. That's why we're the dominant species on this planet.
My point is that by now, we should just go ahead and stop pretending that we're otherwise. Stop making that token effort of tossing one can of beans or peanut butter into the food drive box in order to prove you "care". If you really cared, you'd be making a real effort and giving enough that your contribution really matters. The hypocrisy of those who make one tiny gesture to "prove" they're not entirely selfish is what's truly sickening about this time of year. We have to either make a real fucking difference, or just give up entirely and admit that we're not what we claim to be.
As an interesting side note, I just noticed that "Santa" is an anagram for "Satan". I'm sure there's a connection there. They both do wear lots of red.