Will Dylan Eat It: Marmite
December 5, 2007
Dylan finally summoned up all of his semi-manly courage and tried a small taste. This picture says it all: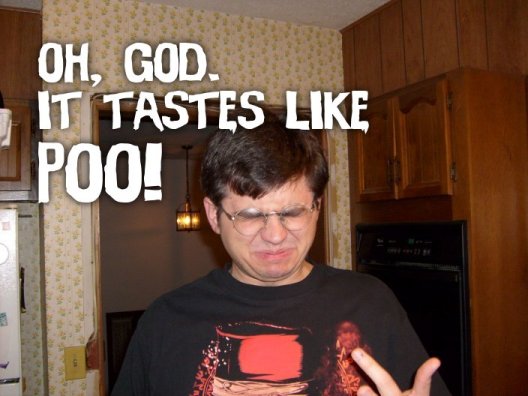 According to the Maitre d' (quoth he):
It's like someone said, "Hey, I really like salt, but it's not spreadable. What if we could make it into a spread?"


I went in expecting Marmite to be nasty on name alone. The smell wasn't horrible, and the initial taste wasn't enough to be truly horrible. My reactions to the bottle itself were all from the expectation of what it held.
With the initial horror of the taste-test over with, it was time to move on to the next phase of the experiment: adding toast to the equation. With two slices of white bread (leftovers from the fried Nutella and banana sandwich experiment) in the toaster, we were soon well on our way to a traditional English snack. I was going to offer the Maitre d' some Earl Gray to go with it, but apparently Captain Picard's favorite tea isn't good enough for Dylan. Things never are good enough for him; he's quite the overbearing lout when he gets in a mood like this.
Some Marmite lovers (such as myself) tend to dab the stuff on rather thickly, going well beyond the recommended amount on the label (but what does the label really know, anyway?). Feeling merciful and benevolent towards Dylan, I didn't go that far. However, because I wasn't feeling that merciful and benevolent, I think I did end up going just slightly beyond the admonition to "spread thinly" from the aforementioned know-nothing label. I managed to hit a nice middle-of-the-road brown sort of color (a Marmite fan's love is measured by how dark his toast is after spreading).
Then, it was time for the moment of truth: would Dylan eat it? (If you don't know the answer by now, move along.) Giving me a dubious look, the Maitre d' folded the bread in half, hiding the brown spread inside (given Marmite's unfortunate color, this was probably to try to give himself a psychological edge).