Will Dylan Eat It: Marmite
December 5, 2007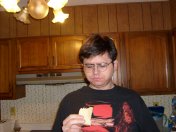 Hm. This isn't so bad.
With some trepidation, Dylan dug into his folded-over Marmite toast. At first, he didn't react much. Apparently, it wasn't as horrible as his expression on first taste led him to believe. He chewed on it a few moments, and managed to swallow the first couple of bites without any problem.

Oh, God.
Then, trouble struck. The full horror of the Marmite hit the Maitre d', as he made a face that looked like he'd bitten into a lemon filled with doggy-doo. He'd hit a large pocket of Marmite that lurked inside the folded bread, immediately clubbing his taste buds into submission with concentrated yeast-and-salt flavor. Dylan immediately darted for the water bottle, looking like he was about to throw up. In his words:
It turns out Marmite is nasty, just not in the way I initially expected. It is salt in spreadable form. Now, granted, folding over the toast probably worsened things by creating big pockets of saltiness.
I could have told him that folding your toast in half is anathema to any good Marmite lover. Not that he's a Marmite lover, since he's apparently one of the unwashed heathens who doesn't recognize its greatness. But still, even heathens should have better table manners than folding their toast.
The final verdict? After washing his mouth out repeatedly, the Maitre d' had this to say:
It's still a little much for me. Might not be so bad if you diluted the taste with other flavors, but… as a toast spread, to it I say "no."
Next time: Dylan and the rest of the TVGA herdlings take on the Jones Soda Holiday Pack!