Will Dylan Eat It: Borscht
December 22, 2007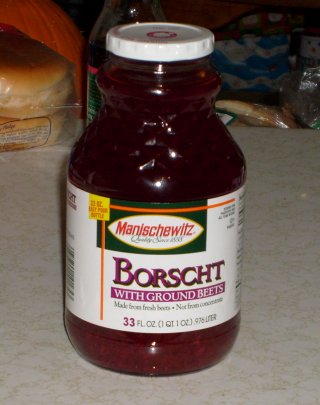 During the Cold War, borscht was a symbol of all things Russian and thereby Communist. It was held up as a icon of the kind of horrors the Soviet Union and its vassals inflicted on their poor kolkhozniks as they slaved for the glory of the People. To the mind of the decadent capitalists in America, the dish carried the stigma of ignominy that came with having to eat a soup of beets to survive.
Ironically, I purchased this jug of red juice in an American capitalist supermarket. Turns out Jewish immigrants from Eastern Europe have been making the stuff here for years. According to the Wikipedia article, there are two kinds of borscht: hot and cold. At the time we did our little taste test, I wasn't sure which one we had, so I talked our participants into trying it both ways. It turns out that the only kind sold in American markets is supposed to be eaten cold, so it turns out they tortured themselves for nothing. Or maybe they tortured themselves for science. Time will tell.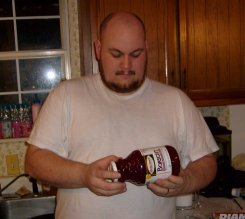 Seriously, it's got chunks of beets in it.
Joining the Maitre d' on his culinary journey into Eastern Beetsoslovokia were two other participants. Jen and Drew volunteered to taste the full force of borscht. No beets do they fear! (The Chef himself, however, was forced to bow out due to a sudden and unexpected allergy to beets. Besides, someone has to write all of this stuff up in case the tasters don't survive.)
Drew inspected the bottle with what seemed to be a mixture of interest and trepidation. The chunks of beet floating in it were not reassuring. The label wasn't kidding when it said "with ground beets". In fact, about the only ingredients on the label were beets and water.
One thing to be said for borscht: it's an interesting shade of purplish-red. In fact, it's rather pretty, if it wasn't for the inherent creepiness of being pure beet soup. According to Drew:
"It looks like Easter egg coloring.�
Well, it doesn't smell
too
bad.
The initial sniff test failed to completely gag anyone, but it wasn't exactly wonderful. Words fail to describe the earthy aroma of beets that wafted from the bottle the second it was opened. Within moments, then entire kitchen was filled with the stench. It is pure, concentrated beetiness.
We tried the borscht cold first (I say "we" because I was there, not because I was suicidal enough to try it). Drew was the first victim to attempt a taste. He didn't immediately gag or explode, which left me feeling a bit disappointed. He commented that it actually tasted kind of sweet (this makes sense, since in some parts of the world beets are used to make sugar).
Jen's turn came, and she managed to down the stuff with no ill effect, also noting the somewhat sweet flavor. Of course, being raised to love beets, her opinion may be somewhat biased. In fact, Jen summed up her and Drew's thoughts on the flavor with this pithy quote:
"It's beet Kool-Aid.�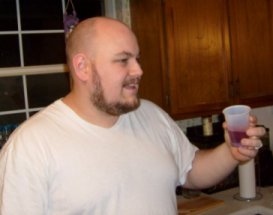 It's beet Kool-Aid.
With two done and no vomit in sight, this was looking to be a disappointing day for the Buffet. We've tried two supposedly disgusting foods so far, and the only entertaining reaction we got was the Maitre d's first reaction to Marmite. Seriously, why do I even bother doing this if it's not going to gross somebody out? So I have to haul out the likes of pork brains in milk gravy to get a response out of these people?
Fortunately, there was the Maitre d' himself there to save the experiment in the name of entertainment. Seeing that the others had actually sort of liked the borscht, he raised his cup in a jaunty toast, and then…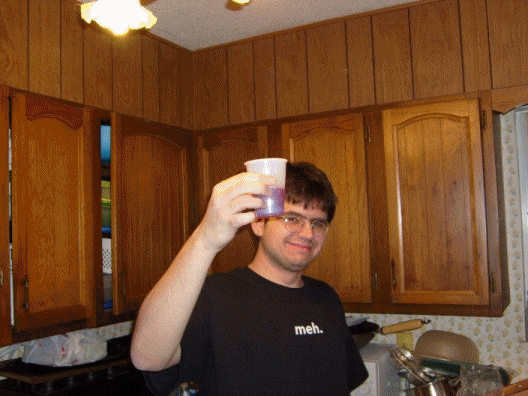 That's right. The Maitre d' took a sip and darted for the sink. This was his comment:
"It's worse if you sip it slowly."
Now that's family entertainment.