The Great Reagan Shall Return!
January 14, 2008
Unlike some other cults, the Church of the Immortal Robot Reagan (also known as Roboreaganology) admits that it is, like all other religions, a moneymaking scheme. We are honest about our capitalist origins and beliefs.
In the days of old, Capitalism brought forth a great nation, a shining beacon of hope and liberty. Guided by the words of the prophet Adam Smith, this nation rose to great heights of glory. However, in the time of Caesar Gorbechev, America's people were beset by trials and tribulations at the hands of Communism's forces. To save His chosen nation, Capitalism brought forth a Savior from the land of California. His name was Governor, The Great Communicator, The Statesman, The President, whose name means "Capitalism With Us�.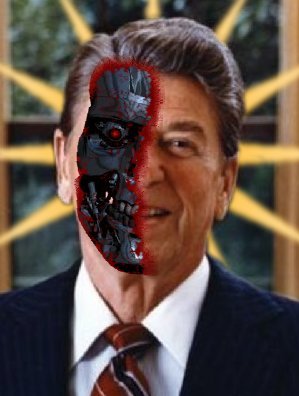 This artist's rendering depicts Our Lord Reagan
on the day He arises in cybernetic splendor.
Praise Capitalism!
This Savior, the Great Ronald Reagan, with His powers of Patriotism and Truth, brought the heathen Communist hordes to their knees. With His bare hands, the Governor ripped a solar panel from the roof of the White House and used it to smite the evil environmentalists who threatened the nation's prosperity. The Communists were contained, and Golden Age ensued, and it was good. However, even the Great One would fall victim to that most insidious of diseases, Old Age, which was sent by Communism to bring him low.
But even as He died, the Reagan promised to return to one day lead His chosen people. The devout witnessed His sacred head removed and stored away in a blessed canopic jar. It was taken to Area 51, where His head shall reside until it is time for Him to rise again in glory.
It is we, the true believers, Capitalism's chosen, who will give our wealth to our church, and with it we will build a new body for Our Lord Reagan.
And when that day comes, the Reagan will rise up in his immortal robot body to rule Capitalism's chosen land. He will slay the cyborg False Governor, the Antichrist Arnold, pretender to the throne, in a fight to the robotic death. His return will begin a new Golden Age, a time when Capitalism's hand will spread across America, and the immortal robot Reagan shall rule forever.
Praise Capitalism!