Will Dylan Eat It: Dollar Tree Candy, Part 3
February 11, 2008
This is part three of a three-part series. Part one is available here, while part two is here.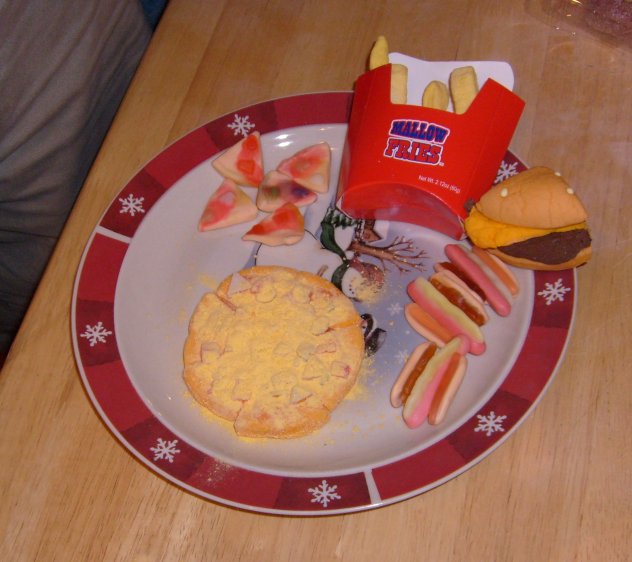 I'm just going to go on record right now and say that I have absolutely no interest in finishing this article. We did this taste-test three weeks ago, and none of the things we tried turned out to be all that gross. They were unpleasant, yes, but not the kind of world-shattering horror you would expect from cheap shitty candy from Dollar Tree. When something's labeled "Gummy Pizza" and it contains stale rubbery bits and a packet of mysterious liquid candy goop, you expect it to taste like the inside of Alf's ass after a three-week Planet Melmac-wide bender. You don't expect it to just taste mildly unpleasant and sour. I demand more from the shit we sample for "Will Dylan Eat It", and so should you. From now on, hell hath no fury like a bizarre food scorned.
Gummy Pizza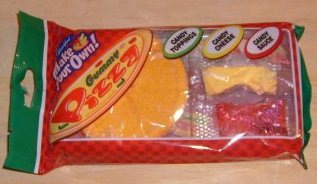 If Domino's sold this, they'd be accused of war crimes.
This stale gummy horror was first sampled by the boys at the now-defunct Don't Eat This.net, which was one of the inspirations for this series. On that mourned site, a couple of guys wearing funny hats, in true Mythbusters style, sampled a variety of questionable cuisine from around the world and dollar stores. One of the first treats they sampled was this, the less-than-famed Gummy Pizza. Even they had a hard time getting through this shit, which considering that they also tried Hormel Pork Brains in Milk Gravy, makes this kind of disappointing. It's bad, but it's not awful enough to provoke that kind of reaction from hardened culinary criminals.
To start off, looking at the packaging, this doesn't seem all that unappealing (at least, if the concept of gummy replicas of real food hasn't turned you off already). It's brightly-colored, with the assorted components nicely laid out, each with callouts. The packaging says "Make Your Own", which reminds me of hippies "rolling their own", probably because to willingly eat this, you'd have to be stoned and have a serious case of the munchies. Sadly, we didn't have the benefit of marijuana to make this appetizing.
As you probably figured out, this is one of those candies that's also sold as a sort of activity, the kind that is supposed to keep your kids busy on a rainy day. If you can pull them away from the Playstation, that is, since this isn't that much fun. You take the "crust" (which is a sort of vaguely stale-feeling gummy thing), add "sauce" (which is similar to the sour stuff that came with the Mallow Fries, but with a flavor like lemon-scented floor cleaner), "toppings" (more gummy bits), and "cheese" (a yellow powder that resembles a really cheap grade of cocaine). As you can see in the picture at the top, the end result actually looks kind of neat, if not appetizing.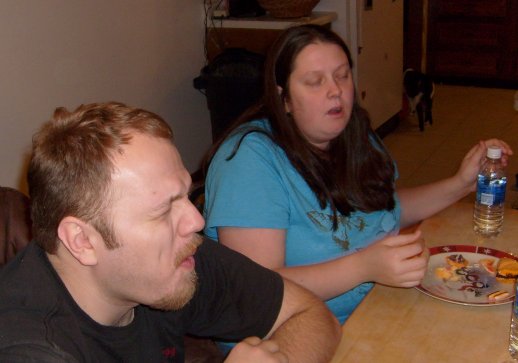 The taste, however, wasn't. The "sauce" (I hesitate to use that word) smelled like lemon-scented floor cleaner, and tasted just like you'd imagine. The gummy "crust" was stale and slightly crackly. Fortunately, the fake cheese and gummy toppings had very little flavor to drown out the nastiness of the "sauce". Maybe they thought they really couldn't compete.
The Maitre d's reaction wasn't as strong than everyone else's:
Compared to some of the other selections, this wasn't totally horrible. The tart citrus-flavored powder covered over the seriously,-WTF-is-this-flavor? taste of the gummi. I like sour stuff so this was fine with me… but honestly, there's a lot better sour candy out there.
Gummy Cookies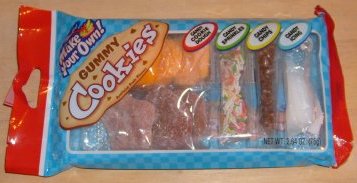 Definitely not home-baked.
Like the so-called pizza, these gummy "cookies" have an assortment of toppings you're supposed to put on the gummy base to "Make Your Own" (as the packaging exhorts you to do…not that it makes me very enthusiastic about the process). Like the Gummy Pizza, this is very attractively packaged, with the kind of background you'd expect for a bag of cookies claiming to be home-baked.
The cookies themselves weren't attractive at all. Flat pieces of the same kind of gummy stuff as the pseudo-pizza, they had the texture of really old breakfast cereal. On top of it went the "icing" and sprinkle-bits.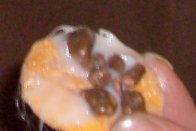 Sticky and gross.
The "icing" that comes with these fake cookies is some of the stickiest junk on Earth. Stickier than Marmite, it refused to even come out of the little plastic pouch. It wasn't even clear like so-called "liquid" candy usually is, either. Instead, it was a cloudy, milky color that made it look like…well, okay, so this isn't exactly a family site, but even I hesitate to mention the possibility that we were consuming concentrated jizmoglobin.
The topping bits came in two varieties. The first was the traditional candy sprinkles, with no difference I could tell from the kind you put on cupcakes. The second…the second were disgusting, vaguely gummy chocolate bits that look like Nerds. Well, okay, more like Nerd turds. They had a strange, chocolaty and chewy texture that made us gag.
It was with the gummy cookies that we finally hit paydirt with the Maitre d's reaction: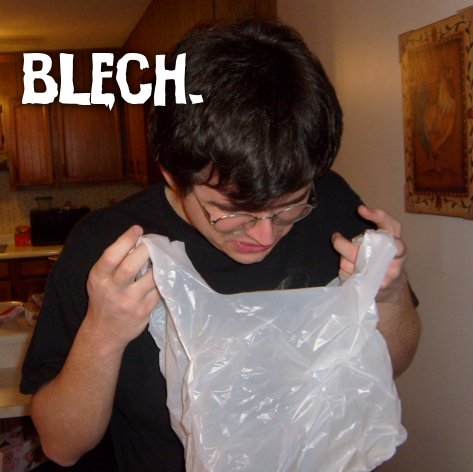 Dylan will not eat it.
No, no, no, no no no NO NO NO. Gummy texture and chocolate flavor do not mix, yet these cookies flagrantly combine the two.

Actually, it's worse than that. You take a sugar-encrusted vanilla or chocolate gummi cookie. Then you spread some icing on it, which I think they make by combining one jar of paste with one cup of sugar. Then you put sprinkles on it. Sprinkles. On a freaking gummi cookie. NO.

And finally, you top it off with pseudo-chocolate-candy pieces. Again, ignoring the abominable combination of gummi and chocolate that this creates, this isn't even real chocolate. I'm not sure what it is, but it's gross.

The gummy cookies were the only candy I didn't finish. I spit it out. It wasn't that I actually gagged, but it was heading that way and I didn't feel like throwing up.
There. It's fucking done. Don't expect me to be so merciful next time. Next time, we're visiting the Asian market and finding the most disgusting cat-food-smelling snacks they have.