The Top Ten Reasons Roboreaganology Is Better Than Christianity
May 13, 2008
As the High Exchequer and Spiritual Guru of the Church of the Immortal Robot Reagan, I often get asked, "What makes your faith, which by all admissions started as nothing more than a moneymaking scheme, superior to faiths like Christianity, Islam, Judaism, or Elvisism, that have been around for hundreds if not thousands of years?" In addition, many people wonder whether a faith centered on the eventual return of Ronald Reagan has anything of value or relevance to the modern world. Take heart, my flock, for although these are uncertain economic times, Roboreaganology shall guarantee prosperity and peace for us all (except those dirty rotten Communists, that is – and Ted Kennedy).
Sadly, all of life's answers shall have to be revealed at a later date, with the publication of Robonetics: Your Guide to the Immortal Robot Reagan, which shall reveal (some of) our church's tenets and core beliefs; this tome will be available soon from Simon and Schuster for the low price of $54.95 (praise Capitalism!). The rest of the secrets of the universe will also be available in inspirational seminars hosted by none other than Nancy Reagan herself, for a reasonable fee, of course ("reasonable" being defined as "whatever the hell the Chef feels like charging at the moment and/or needs to finish this month's payment on his yacht"). Yes, the secrets of the universe can be yours and help you unlock your true capitalist potential.
However, for those who are not yet initiated into our faith and are not yet privy to the fundamental truths of existence that Roboreaganology teaches, I can share a small sampling of the wisdom of the ages, namely a brief list of the reasons that you should switch religions to one that truly speaks for the modern age.
Ten Reasons Roboreaganology Is Better Than Christianity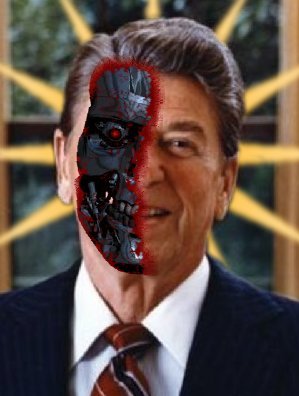 This artist's rendering depicts Our Lord Reagan
on the day He arises in cybernetic splendor.
Praise Capitalism!
1. Jellybeans For Communion: Although not widely known, jellybeans are in fact one of the five major food groups, and were created by the Prophet Adam Smith. In remembrance of the great prophet's vision, which foretold the coming of the Governor, we eat these sacred candy beans. And they're much tastier than that bread and wine crap the local cross-prayers force down your throat.
2. Tolerance Toward Cyborgs: Unlike some other religious paths, which preach intolerance and bigotry toward cyborgs because of their "unconventional lifestyles", we at the Church of the Immortal Robot Reagan accept our bionic brethren into the fold.
3. Economic Prosperity: In the 1980s, Reagan brought economic prosperity to America. With your faith, He can give you that prosperity, too.
4. A Risen Robot Savior: While, yes, we admit that that Jesus guy might have come back from the dead, the Reagan is going to return from the grave as a robotic combination of flesh and steel. A cyborg messiah is so much more real and believable than one who merely ascended into heaven and transcended the flesh.
5. Reagan Really Existed: There is more documented proof that our Savior the Reagan existed (and will therefore rise again) than other religions' messiahs. There are no videotapes of Jesus (or, for that matter, Buddha or Mohamed) giving speeches and confronting the Evil Empire.
6. Dealing With The Money-Changers: Why bother driving the money-changers out of the temple when you can impose a surcharge on their transactions, then use the money to further the Great Reagan's will?
7. Pat Robertson Isn't One Of Us: Enough said, really. While Pat liked Ronnie well enough in life, he disapproves of our movement (or would, if he knew we existed), as it would cut into the number of people worshiping him and sending him money. Isn't that the only reason you need?
8. No More Wimpy Tithes: Christianity only asks for a mere ten percent of your income. We at the Church of the Immortal Robot Reagan start at 15% and even go so far as to charge admission to our worship services! Praise Capitalism!
9. Chick Tracts? We Have Maitre d' Tracts!: Really, if your fringe religion's whacko tracts preaching the impending return of your messiah aren't written by a man in a suit wielding a chainsaw, what's the point?
10. A Much More Charismatic Leader: While yes, much of this list applies only to Protestant denominations, we shall take this time to compare the leaders of Catholicism and Roboreaganology. Pope Benedict bears a disturbing resemblance to Emperor Palpatine. The Chef does not. Enough said.
In Closing…
If these ten reasons fail to convince you to follow in the footsteps of the Great Reagan, then perhaps you really should consider buying our book and reading it, as its magnificence is beyond compare (that, and the Chef needs the money to finish paying off that vacation house in Hawaii).