Legend of the Snake Hooptie
August 12, 2008
I'm tempted to put the title of this article in all capital letters, Allspark "LEGENDS OF BATMAN!"-style, but I will resist – for the moment, anyway. Sit right down and the Chef will share with you a story that happened not too long ago in the festering pit of urban despair known as Knoxville. Well, okay, not in Knoxville proper, and Farragut isn't exactly a pit of urban despair, but a setting like the ghetto would be a more proper habitat for the monstrosity I'm about to describe than the upper-middle-class suburban shopping mecca it was spotted in. Words cannot capture its sheer horror and brilliance. It is the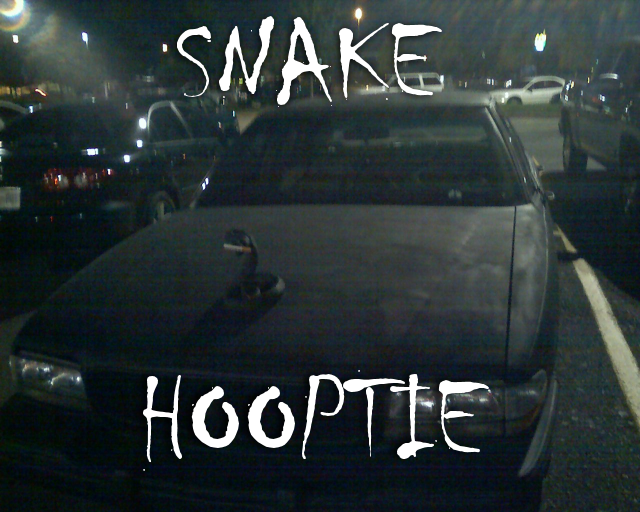 The Maitre d' and I were out and about at Turkey Creek several weeks ago when we spotted…it. There it was, sitting in the Wal-Mart parking lot, smugly superior and certain that it owned all it surveyed. It was what may just be the ultimate hooptie, the pinnacle of shitmobile evolution (of course, as everybody knows, evolution is a lie sold by those who would have us worship soulless science instead of the Immortal Robot Reagan). It apparently began its life as a nondescript mid-90s sedan, a boring four-door grocery-getter, before some urban mad scientist got his claws into it and ramped it up to 11. It was a flat black all over, the kind of flat black that comes out of the cheapest cans of spray primer from…well, Wal-Mart. (Not that I would accuse the owner of anything like, you know, buying the primer and not waiting until he got home to paint over the rust spots.) When I say "flat black all over", I do mean all over…the grille, the wheels, the trim, everything was the same dull black, like someone had attempted to set the car alight for the insurance money but the fire department intervened before the deed was done. That, or perhaps the owner/decorator was wanting to be all sleek and artistic by making his entire car monochrome.
The most distinct feature, however, is its namesake hood ornament. Not a tasteful chromed cobra badge seen on many Mustangs, someone had bolted (or, considering the quality of the paint job, attached with wood glue) to the hood a half-foot-high plastic snake. Like the rest of the car, it was a dull, flat black, blacker than the inside of Satan's asshole. Resting in the snake's mouth was the only spot of color on the entire car, a Marlboro cigarette impaled on its fangs. A pair of black fuzzy dice hanging from the rear view mirror added just the right touch of class to the ensemble.
Truly, the Snake Hooptie was a thing to behold. So naturally, I had to take a picture and show the world the wondrous thing we had found at the Turkey Creek Wal-Mart, so that we could hold the owner and creator of this monstrosity up for praise (or maybe ridicule). You have to respect a guy who's handed a shitty car and completely runs with it. He could have tried to fix the car up to being merely mediocre and nondescript, or even riced it out with a tail wing the size of a coffee table and an exhaust pipe big enough to stuff John Holmes's wang in, but instead you, Mister Snake Hooptie Man, chose to take a different direction. Instead of spending more on rims than you did on the car, you chose to take this ride to the epitome of low-budget transportation. Hats off to you!
Looking at this car, I can't help but think that it's the kind of vehicle Cobra Commander would've driven when he was in high school. He was probably picked on for it, too. There's nothing like being made fun of in high school to mold someone into a failed used car salesman/terrorist mastermind.
Of course, after I took it, the picture sat on my phone for a long time before I bothered to download it to the computer so I could post it. I apologize for the shitty quality, since obviously my phone couldn't take a good picture if you gave it a $2000 Canon and a week's training at Olan Mills. Or maybe I'm the one to blame. Maybe my awe of the Snake Hooptie caused my hands to shake too much.
To this day, I'm not sure whether the Snake Hooptie is the greatest thing ever, or a crime against humanity.