Will Dylan Eat It: Marmite (Part 2)
December 8, 2007
The Maitre d's initial nonchalance about the Marmite and cheese didn't stop him from making this face a little later on: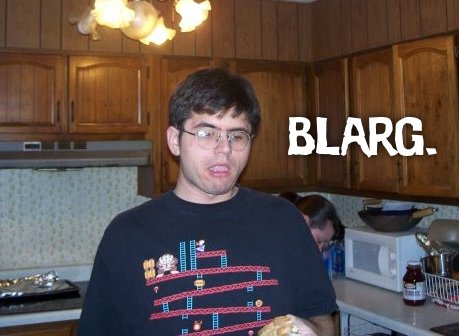 No, I have no idea why he did that. Maybe he came across the pubic hair I slipped into the sandwich when he wasn't looking. Or maybe the Marmite slipped into his brain and tried to take over his body, in order use him as a puppet to help its dark masters conquer the world.
Man, I've gotta stop watching late-night sci-fi movies before writing these articles.
Alien brain slugs hidden in Marmite aside, the Maitre d' had this to say about the Marmite and cheese:
It's not one of those snacks that you take a bite of and then want to
eat as much as you can stuff in your face. The taste is a bit
jarring–the cheese and the Marmite are both very strong flavors. But I
can't say I haven't craved it a time or two since the experiment.
That's mostly the cheese, though.
Fortunately, to counter Dylan's non-reaction to the Marmite and cheese, we have another victim to torment. After taking a whiff from the jar, Jen wasn't about to try Marmite by itself (remember what I said about many people outright hating the stuff). The Maitre d', after promising to do various things I promised not to ever mention to Jen's husband, talked her into trying a bite of the sandwich. This was the result: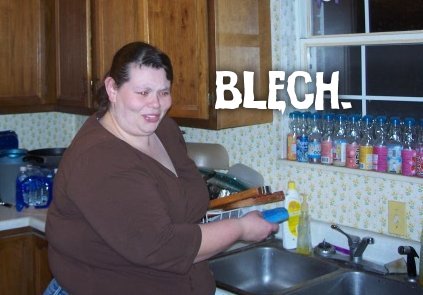 She was not impressed. In fact, she wonders how I manage to not only eat the stuff, but enjoy it.
For the next phase of our experiment, I decided to step away from the paradigm a bit. I briefly considered suggesting a Marmite and crisp sandwich (Marmite and potato chips, to those on this side of the Atlantic), but that wasn't what we really wanted. After all, the last three experiments have been trying products on bread. We really should try to get away from that. Predictability is the hobgoblin of lesser minds, you know.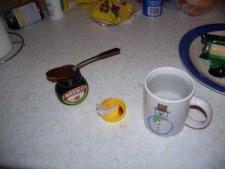 Marmite soup. Or drink. Whatever.
Fortunately, according to the Wikipedia article, Marmite can be served as a hot drink, ala Bovril. I'm given to understand that, like Bovril, with a bit of onion and cayenne, it's a favorite among the footballer crowd (Note that this is not the same kind of football played in less-civilized parts of the world. And of course, fans of American football don't know how to throw a proper riot.).
So we prepared a mug of near-boiling water and a good-sized spoonful of the brown gunk. The water has to be pretty hot to dissolve the Marmite. As you'll recall, Marmite has something of the texture of molasses in winter.
A little stirring, and the soup was ready. A few slices of onion (the Chef does love his stinky vegetables) were thrown on top for garnish. We didn't have any cayenne pepper, so we threw in a dash of chili powder for a similar enough flavor.
By the way, in Sri Lanka, this is said to be a good cure for a hangover, albeit with a fried onion instead of a raw one. Speaking for myself, I will say that it isn't bad in that role, and does well as a morning pick-me-up. Bovril does make a better "tea", though. It's even a rather pretty reddish-brown color: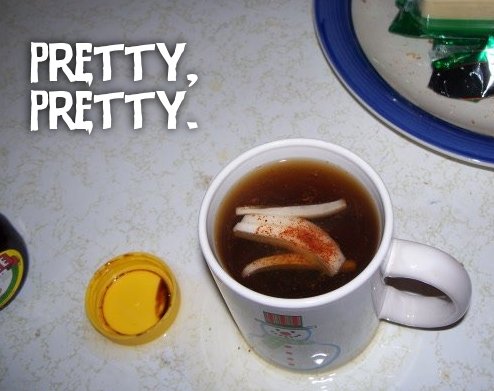 Are you
sure
this shit's
not going to kill me?
With the Marmite fully dissolved, Dylan looked down into the mug with trepidation. Indeed, he seemed as if this mug of brownish liquid was forcing him to confront his own mortality. The question was, would Dylan eat (well, drink) this, or would he chicken out?